Our story
Ryan has over 20 years international and national building experience, having spent many years renovating heritage homes in the high-end market of Mt Eden, Auckland where fine detail and workmanship was required and cleverly executed. Ryan's workmanship has become craftsmanship.
Ryan and our team's outstanding ability to think outside the square in the planning stages of renovating, particularly within difficult spaces and tight budgets, coupled with our ability to visualise and communicate is what sets us aside from your "average" builder and helps our clients to reach their end goal.
Having faced over two decades of renovation challenges, new builds are no match for Ryan and his team. We have an endless range of plans and ideas for your new home to help you decide your best layout and assess the functionality of your new build.
Ryan and his team also specialise in decks, having built some pretty amazing outdoor spaces around the Nelson/Tasman regions, we have earned our proud name as the "deck masters" among many of our clients.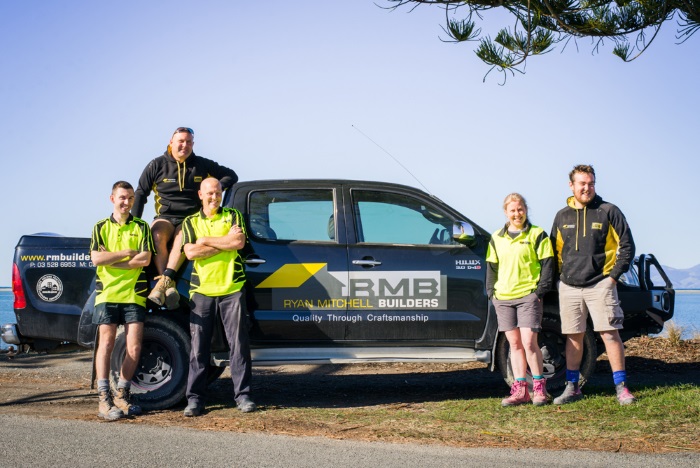 Known for working alongside our clients and encouraging them to pick up the tools themselves has given our clients a great deal of satisfaction knowing that they contributed to their end masterpiece which is something our clients carry with them with pride and has earned us many friendships over the years.
We love what we do and in return our clients love what we produce, beautiful spaces built to outstanding quality.
Contracts are maintained by Ryan's partner Ashley, ensuring no long drawn out contracts and full transparency. Our health and safety policies are also managed by Ashley a legal executive, to ensure you and your family are kept safe throughout your project and keeping your non build costs lower.
Ryan moved to the Tasman region in 2003 to live closer to his family where in his spare time, he is a keen fisherman and a father of two boys who keep him on his toes. Needless to say, life is busy, but we wouldn't have it any other way.
We hope you enjoy our website, where we will continue to upload new and exciting projects along our way.